FREE MLB Picks and Parlays Today 7/11
Welcome to our first MLB Parlay of the Day article! For this piece we will be using the OddShopper MLB Parlay Builder paired with the Stokastic MLB projections to make the best MLB picks and parlays today for the eight-game main slate. There are four options within our Parlay Builder: 10x Parlay, Prop Party Parlay, Chalk Eater Parlay, and Dog Days Parlay. Since this is the inaugural article, we'll throw a party and go with the Prop Party Parlay! This is the most popular betting combo within the Stokastic community as this parlay provides up to five player props that will give you the best chance to win based on our Stokastic simulations.
Below are five picks that stood out in our Prop Party Parlay that include four strikeout and one home run prop. Remember this MLB parlay today is up to five player props. If there is one prop you disagree or don't feel comfortable with, remove it and roll with a four-leg parlay. A five-prop parlay will give you more bang for your buck and we're trying to win big in this article!
One last thing before we dive into these props. We will be using BetMGM where they have fantastic referral deals where you can bet $10 and claim $200 FREE!
MLB Picks and Parlays Today 7/11
Luke Voit Under 0.5 Home Runs (-225)
Picking under any home run bet usually doesn't give a lot of value, but the xWin rate is always high as you can tell with this Luke Voit under home run bet coming in at 80%. In his first season with the Padres, Voit has 10 home runs in 66 games played. His .187 ISO is the lowest since his rookie season and he has a career-low .415 slugging percentage. Voit has one home run in his last 17 games, which is also one in his last 57 at-bats. Playing at Coors Field will always be a risk taking any under, but Rockies starting pitcher Jose Urena has done a fantastic job keeping the ball in the yard. Granted this will only be Urena's second start with the Rockies since being acquired from the Brewers, but Urena has a career-best 0.63 HR/9 this season. Lock in this 80% expected win rate to get this parlay started.
Max Fried Over 4.5 Strikeouts (-160)
The Atlanta Braves started turning the season around as soon as the calendar hit June. They have won 29 of their last 37 games as they try and catch their division rival New York Mets this series. Max Fried will take the bump as he looks to improve on his 9-2 record. Despite recording four strikeouts in back-to-back games, our MLB Betting Model gives Fried a 6.0 strikeout projection tonight. Fried has five or more strikeouts in 12 of his 17 starts this season and has posted a career-best 19.5% K-BB rate. The Mets have the third-lowest strikeout rate in the league, which causes room for concern. However, in his lone start against the Mets this season, Fried had six strikeouts. He has also averaged 7.5 strikeouts per game against the Mets in his last four starts. Don't be intimidated by this matchup, this line is too low.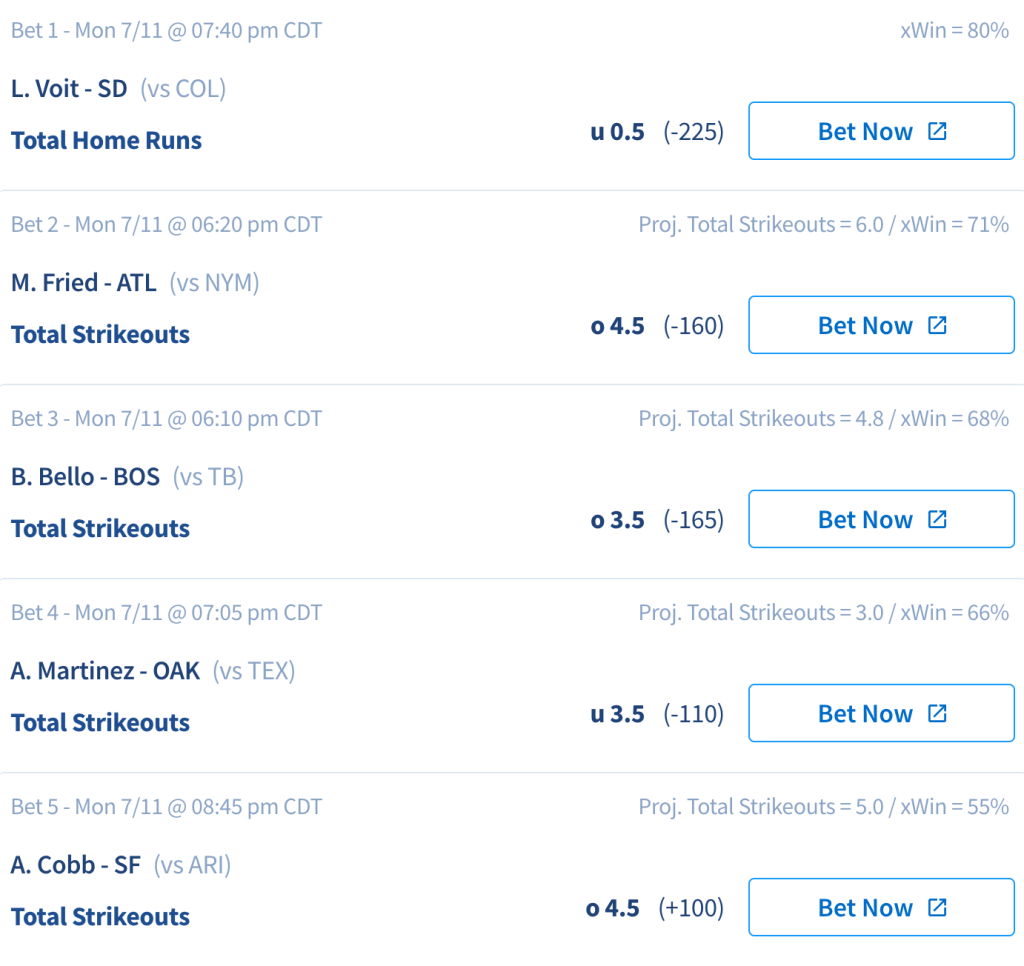 Brayan Bello Over 3.5 Strikeouts (-165)
Rookie pitcher Brayan Bello has climbed the Red Sox ladder quickly as the 23-year-old will take the mound for his second career start in the big leagues. Getting strikeouts is what Bello does best. Over the last two years from Single-A to Triple-A, Bello recorded above a 30% strikeout rate in each league. In his first major league start, Bello struggled against the Rays allowing four earned runs and only striking out two batters after being pulled at 79 pitches. Redemption is on the table right away as Bello draws another matchup against the Rays tonight. Expect Bello to bounce back, especially in the strikeout department as the Rays have a 23.7% team strikeout rate, which ranks as the sixth highest in the league. Our MLB Betting Model has Bellow projected for 4.9 strikeouts, which is more than enough room for this over.
Adrian Martinez Under 3.5 Strikeouts
Another young rookie starting pitcher who has made his way to the big leagues recently is Adrian Martinez. This will be his fourth start this season as he has a 1.40 WHIP and 6.00 ERA. Martinez is allowing a .306 batting average and a 2.40 HR/9. Struggling with the long ball will be put to the test playing against the Rangers who rank eighth in the league in total home runs and 10th in ISO. The Rangers are implied for 4.9 runs tonight, which is tied for the highest of anyone on the slate not in the Coors Field game. Through his first three games, Martinez has a 16.7% strikeout rate with only one game where he had four or more strikeouts. Even in the minor leagues, Martinez didn't have a great strikeout rate. The Rangers averaged 6.7 runs per game in their last home series and may cause havoc for Martinez tonight.
---
The Latest Sports Betting Content from Stokastic Odds
---
Alex Cobb Over 4.5 Strikeouts
The only player prop bet that is coming with even-money or higher is Alex Cobb over 4.5 strikeouts against the Diamondbacks. This is where we get most of the juice for the parlay. Our MLB Model has Cobb with a 5.0 strikeout projection as he has recorded above a 24% strikeout rate for the second straight season. Similar to Fried, Cobb has a career-best 17.6% K-BB rate. Recently, Cobb has struggled getting strikeouts, which is why this is the riskiest prop in the parlay. He has hit the under on 4.5 strikeouts in each of his last four starts. However, Cobb was dealing with a neck issue that put him on the 15-day DL in early June. He is fully healthy now and threw 97 pitches in his last start. Before his injury Cobb had six or more strikeouts in four of his last five games. There is obvious risk, but the upside is high.

Thanks for reading to the end of this article! If you appreciate this free content and want to see more of it every day, you can help us out by sharing this article on social media!
Check out Stokastic's Best Bets home page for more sports betting picks and predictions.