3 Quick and Profitable Money Making Bets for Seahawks vs. Steelers Week 6 NFL Sunday Night Football
Ending this long, exciting NFL Sunday, we have the Seattle Seahawks taking on the Pittsburgh Steelers on Sunday Night Football. With so many stars in this game, there are a number of fantastic NFL betting player props for you to put some money on.
Let's take a look at the best Seahawks vs. Steelers NFL betting picks for the Week 6 Sunday Night Football game, using the Awesemo OddsShopper.
Week 6 NFL Best Bets for Sunday Night Football: Seahawks vs. Steelers
Seattle Seahawks vs. Pittsburgh Steelers
Date: Sunday, October 17, 2021
Time: 8:20 p.m. EST
Venue: Heinz Field — Pittsburgh, PA
Coverage:NBC
Seahawks vs. Steelers NFL Betting Picks + Odds Shopping
Finding the most profitable NFL betting picks has never been easier. The newly updated OddsShopper tool is like the Amazon of sports betting. Simply, filter, sort the page and find the NFL best bets within seconds, as seen below!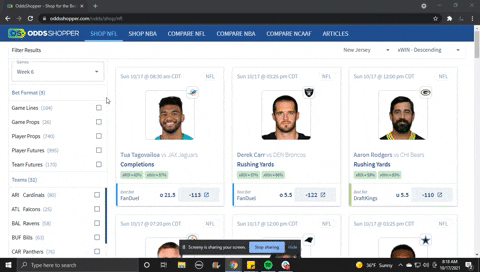 Ben Roethlisberger Over 22.5 Completions (-132) at FanDuel Sportsbook
As shown by the GIF above, sorting the player props for this game by the expected win percentage brings this prop to the very top. Ben Roethlisberger has looked aged this season and the deep shots we have become accustomed to are few and far between. However, the shorter passes should mean more completions for Big Ben. He has 26+ completions in three of his five games this season. The Seattle defense doesn't scare you, so Roethlisberger should be able to hit the Over at home.
The OddsShopper Tool gives this prop an 82% chance to hit the Over, with an expected ROI of +44%. The Player Props Tool projects Roethlisberger for 25.52 completions.
Gerald Everett Over 16.5 Yards Receiving (-113) at FanDuel Sportsbook
The Seahawks will be without Russell Wilson for the first time in his career. His replacement is Geno Smith, who looked relatively sharp in his brief stint last game, but he is not going to be taking the deep shots that Wilson would. The Steelers are also going to bring pressure early and often, which doesn't allow for these deep, long-developing plays. This takes a large portion of these wide receivers' game out of the equation. Instead, it very well could be Gerald Everett getting the targets underneath in this game. Everett has over 16.5 receiving yards in two of his three games this season.
The OddsShopper Tool gives this prop a 70% chance to hit the Over, with an expected ROI of +32%. The Player Props Tool projects Everett for 29.13 receiving yards.
Najee Harris Over 4.5 Receptions (+102) at FanDuel Sportsbook
We have seen Najee Harris be heavily involved this season, averaging 21.2 touches per game. He also has 39 targets, showing he is a big part of their passing game. The offensive line for the Steelers is no good, which is a big reason why Roethlisberger isn't taking those deep shots. JuJu Smith-Schuster also suffered a season-ending injury last week, which takes away one of the main receivers for Roethlisberger underneath. This leaves a larger role for Harris, which he should take advantage of tonight.
The OddsShopper Tool gives this prop a 69% chance to hit the Over, with an expected ROI of +39%. The Player Props Tool projects Harris for 5.41 receptions.
Thanks for reading to the end of this article! If you appreciate this free content and want to see more of it every day, you can help us out by sharing this article on social media! Check out the StokasticOdds home page for more sports betting content, including more picks and predictions.